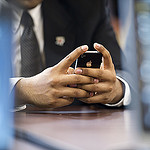 I confess, I've been guilty of using twitter as a broadcast only mechanism.  I have two main accounts and one of them is purely broadcast (I use tumblr to post links to Twitter and a Facebook business page–more on that experience).  But, inspired by this analysis of Marc Andreesen's tweets during 2014, I was inspired to start using Twitter as a way to have conversation.  As of late December,  I'm committed to responding to at least one tweet when I open up Twitter.  Not a retweet, not a favorite, but an honest to god reply.
So far, I've enjoyed this.  If someone is tweeting out an article, it forces me to read the article critically.  If someone says something provocative, I can respond with a question.  I have started to unfollow people who just post links (like I did) because I'm looking for conversation.  Seeking conversation gets addictive pretty quickly.
The downside is that this takes more time.  Not much more (it's only 140 characters after all) but more time.  Frankly, it can also be a bit scary to yell your opinion to the whole world (or at least that subsection of the world that is on Twitter and is reading your tweets, which is much smaller).  I do that on this blog all the time, but responses on Twitter are far less polished.
I know this is old hat to many Twitter users, but it is a new paradigm to me. I'd love to have stats on this to make myself more accountable, but I wasn't able to find an easy way to show my Twitter usage (new tweets vs replys vs retweets)–does anyone know one?