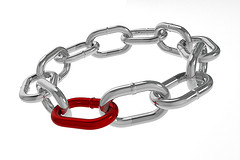 I maintain a link blog about Colorado food and local food in general.  I use Tumblr, but I'm only incidentally interested in Tumblr traffic.  Tumblr hooks up to Facebook and Twitter, and pushes links there.  (I realize that I am missing interaction on Twitter and Facebook by using these networks as broadcast only, but I don't have time to fully engage, so I thought a limited presence was better than nothing.)
Having maintained this link blog for over two years, I have learned a few things.
It is easy to start a project like this, but hard to finish.  There's always more to do.  I think I'll stop when it stops being interesting.
Deciding to do this is a great way to gain a broad understanding of a field while providing some value (via curating).  As you find more and more sources of links, videos, articles and audio content, you'll gain a sense of what is happening.  Even if you don't painstakingly read every article, you'll still get a sense.
Speaking of sources, Google alerts is your friend.  I get emailed alerts on a variety of searches, and about 25% of the results are worth posting.  Facebook and twitter are additional great sources of links.
An RSS reader can help you if you are really diving in.
Giving someone notice that you've referenced their article via an '@' mention will get you their attention.
Queuing up posts on Tumblr is a life saver.  This lets you stack up posts and portion them out one per day.  I typically have between 15 and 30 posts in my queue.  This makes timely posts more difficult, but frees me up to forget about the link blog for weeks at a time.
A link blog like this is a great use of your in between time, especially if you have a smartphone.  In five minutes I can scan and post two or three links, where five minutes is barely enough time to think of a regular blog post.  The Tumblr app is very good.
A linkblog is a great resource for other content generation.  I have a newsletter about local food as well, and a key section of that is interesting links.  Those are almost entirely drawn from the Tumblr.
The linkblog approach is very similar to Twitter, but differs in a few crucial ways:
These attributes make a linkblog a fine complement to Twitter.
There are some problems with this model, however.
Limited interaction with followers, either on Tumblr, Facebook or Twitter.
I've found that engaging on Twitter and Facebook directly is far more effective if you want content to be viewed or links to be clicked.
A linkblog like this is not truly building my tribe
So, if you have limited time, want to gain insight into a particular area of interest, and are OK with the drawbacks, create a linkblog.