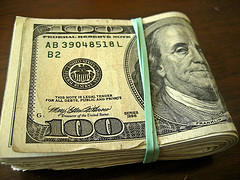 I saw this post from Kin Lane talking about Zapier and how one of the many advantages it has over similar services is its pricing.  I completely agree.  While I like free as much as the next person, when I'm building on something, I want to pay for it, or at least have it monetized in some fashion (Kin has a nice list of ways for API providers to monetize).  Paying for a service means:
the company can survive
great employees can be paid
when I complain, the company has an incentive to listen
the value I get from the service is above what I'm paying (aka consumer surplus), if I'm a reasonable facsimile of homo economicus.
All of these are really nice attributes of a technology I'm going to build on (not just 'date' as Kin says).  This is an interesting dichotomy, because the fastest way to growth is to provide a free service–then there's no friction to signing up.
I guess the answer, at least for software products where the marginal cost is very very low, is a freemium offering, like Zapier.  Get the user in, show them how your value proposition works, and then ask them for money when they are hooked.  Just don't make the freemium level unusable!