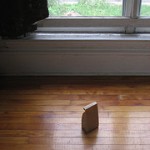 Brown bag lunches are great opportunities for employees to share their knowledge, learn new skills, and bring a small company together.  By 'brown bag lunch', I mean an internal presentation lasting about an hour, made by an employee on an interesting topic of their choice.  The name comes from everyone bringing their lunch to work on that day, rather than eating out.
8z has been doing them for over two years, and here are some lessons.
Schedule them monthly, and one mont at a time.  Don't try to schedule out the whole year.
Have presenters spend as little time as possible building a powerpoint.  It's hard to get away from them as a structural crutch, but they don't really add a lot of value.
Bring in real business situations.  One of the most memorable presentations occurred when presenters analyzed a recorded call during the presenation.
Have someone be point and recruit people individually.  Don't count on volunteers, especially at the beginning.
It's OK to miss a month or two if other stuff is going on.  Hello December.
Record them if you can.  All you need is an ipad and a youtube account.
Technical presentations (like application architecture) are appreciated by the business folks.
Everyone has something to say.
You can have people repeat every six months or so.
Some people won't want to speak.
Presenting in pairs can work.
Make sure the presenter leaves plenty of time for Q&A.  8z budgets an hour for the talk and Q&A.
Schedule it so founders/executives attend.  This makes a powerful statement and exposes them to direct ideas.
Be prepared to capture changes/feedback from the presentation.
The departmental cross pollination is a major benefit.
Consider themed potlucks (mexican, breakfast for lunch, etc) instead of brown bag lunches.
How do you spread knowledge within your small company?