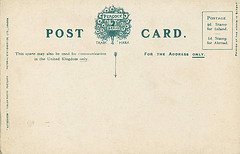 I was looking at automated paper mailing systems recently (and listed what I found), and was especially impressed with Lob, especially the ease of its API.
Among other printing services, Lob will let you mail a postcard with a custom PDF on both sides, or a custom PDF on one side and a text message on the other, anywhere in the USA for $0.94.  (Sorry, not sure about international postcards) The company for which I work sends out tens of thousands of postcards every quarter. The vendor which we use charges them a similar fee (less, but in the same ballpark) but there's a manual process to deliver the collateral and no API. So an on-demand, one by one post card sending system is very interesting to me.
Note that I haven't received the Lob postcard which I sent myself, so I can't speak to quality. Yet.
The Lob API is a bit weird, because the request is form encoded rather than a JSON payload.  It also uses basic auth, but only the username, not the password. But the API seems to have all the pieces you'd need to generate all kinds of postcards–reminder postcards, direct mail postcards, photo postcards, etc.
After testing out the service via the web interface and cURL examples, I thought that it'd be fun to build a Zapier zap. In particular, being able to send a postcard for an entry in a Google spreadsheet seemed like a useful use case. Plus, Zapier is awesome, and I'd wanted to test out their integration environment for myself.
So, I built a Zapier integration for Lob, using the Zapier developer docs in combination with the Lob developer docs. It was actually easy. The most complicated step was translating the Zapier action data, which is a one or two dimensional array of typed data, into the Lob data format, which wanted a couple of text fields and two address arrays. Zapier has a scripting environment that let me modify data from APIs pre and post send, and even had an example about form encoded APIs. Zapier's JavaScript scripting development environment was full featured, including syntax and error highlighting. It had no real debugging available, but I could use the venerable debug-by-log-statement method fairly easily.
Where could I take this next? Everywhere people use postcards in real life. The postcards depend on PDF files (see a sample), so if you are generating a custom postcard for each interaction things become more complex, but there are a few APIs (based on a 30 second google search, here and here) available for dynamic PDF generation. There are also limits on API call throughput, if I stuck to the Zapier integration–I could send at most 300 postcards a day, unless I managed multiple spreadsheets.
I see reminders of high value events (dentist, house maintenance, etc), contests and marketing as key opportunities for this type of service. And if I had a product where direct mail was a key component, using Lob directly would be worth serious consideration.
Regarding the Zap, I believe I cannot make this Zap available to anyone else. Since I'm not a representative of Lob, I couldn't commit to maintaining this Zap, and Zapier doesn't want to have any of their customers depending on an integration that could disappear or be unsupported at any time–a fair position.
If the Zapier or Lob folks want to take this integration and run with it, I'd be happy to share my code–just leave a comment. If anyone else is interested in being able to generate Lob postcards from a Google spreadsheet (or any other compatible API) via Zapier integration, let me know and I'll see what I can do.