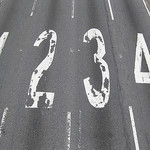 I self published a Developing Cross Platform Mobile Applications with Cordova CLI last fall. It's about the Cordova command line tool (Cordova CLI). Cordova is a way for web developers to build mobile apps that are distributed via the various app stores and can access app functionality (your list of contacts, for instance). The CLI is the main method of interacting with Cordova–managing your files, building apps, etc.
You can see my take on writing the book and marketing it, but I wanted to give some hard numbers on the results.
I thought I'd share some lessons from this experience. I started on 8/29/2013, had my first purchase, for $4, on 9/3/2013 (Leanpub lets users buy in progress books and get any updates), and published the 100% complete version on 10/4/2013. The book is 54 pages long.
Sales numbers as of today:
56 readers
47 readers who paid for the book
9 readers who received free copies (reviewers and members of the Cordova community, because I am grateful for the work they've done)
2 refunds (Leanpub has a 45 day no questions asked "Happiness Guarantee" refund policy)
Price range: $4-$20
Current price range: $20
Total royalties: $572.73
Number of people who paid over list price: 2
Here's a graph of when purchases took place: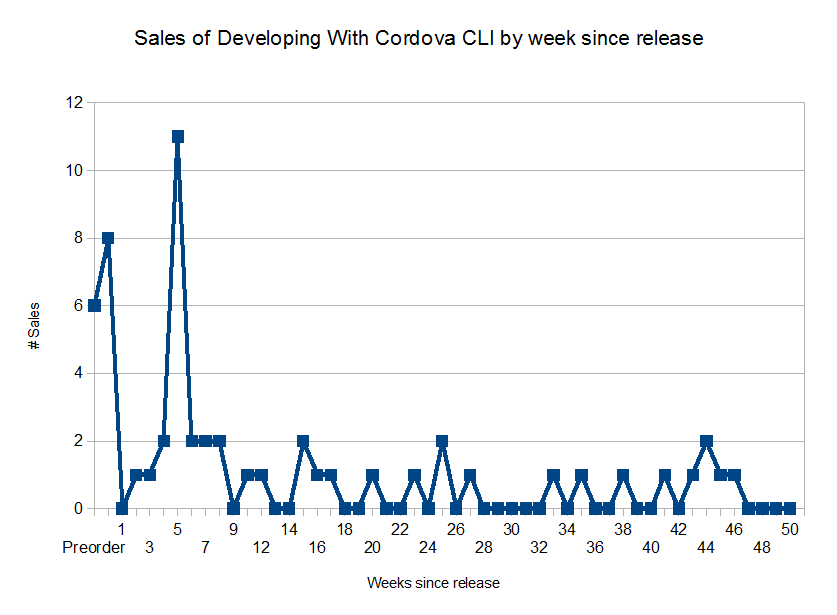 Visits/conversions from 8/29/2013 to 9/9/2014 to the leanpub page (note that these don't match up with the above numbers because if someone disables Javascript or cookies from Google, Google Analytics won't track the purchase, and also I didn't enable conversion tracking until Sep 18, 2013):
5897 sessions
4731 visitors
37 book purchases tracked
0.63% conversion rate
53.75% abandonment rate
84.92% bounce rate
79.67% new sessions
Traffic sources:
59.4% of sessions are from organic search
13.5% from referrals
13.2% from social
10.6% direct
2.3% from "other"
0.9% from paid search
Highest referral sites for visits:
Stackoverflow
mooreds.com
devgirl.org (I wrote a guest post)
twitter
google groups
cloudfour.com (I wrote a guest post)
hacker news
Highest referral sites for conversions (out of 14 conversions):
Direct
devgirl.org
Google (organic)
mooreds.com (embed and referrals combined)
twitter
Pricing matters.  I varied the price, depending on how close the book was to being complete. The vast majority of my royalties came when I priced the book at $20.  That felt fair to me for a fifty page ebook about a technical topic. If someone charges $60/hour and this book saves them an hour, they have a 3x ROI (yes, I probably should charge more).
Overall, writing a book has been a great learning experience (and the couple hundred dollars in my pocket feel good too).  I learned about writing, research, and marketing. I learned that very few people buy an ebook and return it. I learned that sometimes a single sentence in a book can take you an hour to verify. I learned that it can be fun to write and promote your book. In retrospect, the only thing I'd change would be to write on an evergreen topic.  Cordova is moving fast enough that, while there is still value in this book, it needs a refresh every six months or so to remain relevant.