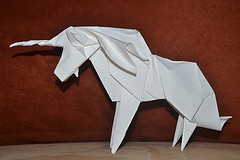 The web, for all its warts, pushed a major advance in software construction.  The separation of concerns.  This is the idea that, just as you wouldn't have the same person paint a house as lay the foundation, you should have different people design the user interface and the internal guts of software applications.  The skillsets are simply different.
Since modern web applications exist in the browser and are primarily CSS and HTML, with some amount of javascript, it is fairly easy to split up development between designers and developers.  Designers could focus on beautiful, functional user interfaces and developers could focus on making the application work.  HTML and CSS were the common interface, and they weren't complicated (neither is a full featured programming language).
This separation is more difficult to maintain since the rise of the single page application, which pushes a lot of logic and functionality into the browser with javascript, but is still possible.
But, the mobile device, with its native apps, is a huge step backwards.  Sure, there's still plenty of scope for people who just want to make things work–APIs and server side logic are a large part of most mobile services.
But for the client side, it's not enough for designers and UX folks to be fluent in the traditional tools.  They can still do mockups, but the UI for mobile devices is constructed in code (objective C or android java, primarily).  That means that the finer points of UI must be added by developers.  No longer can they be delivered by HTML and CSS.
And hence, the rise of the proverbial unicorn, who can do mobile development, design and UX.  And makes very good money, since there are very few of these.
Is this sour grapes?  Nope.  I know that one of my limitations is my aesthetic sense.  (If I harbored any illusions about this, my wife would be quick to disabuse me.)  And I think that the unicorns should ride this market for all it is worth.  It just frustrates me that we came so far with web applications and separate of concerns and now are taking a huge step back.