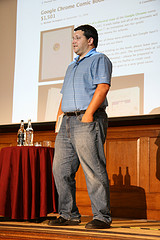 I think that the RSS reader is such a fantastic invention. It lets me monitor many bloggers and news sites, and see new content.  This lets you have an eye on lots of writers, including some that haven't written for a long time.  I'm going to be highlighting blogs that I follow, one per month.
The first is Dion Almaer's, who, unfortunately, has moved most of his writing to Medium.  But Dion is a great technologist.  He currently is employed at WalmartLabs Mobile.  He's written such gems as:
When people ask me about Java and why I don't often write applications in it, my answer is not that I think "Java sucks". I think the JVM is amazing technology, and there are a ton of fantastic APIs. Using Java is a great answer for many situations. However, the least amount of fun that I have had programming has been when using the Java language. It isn't just that it feels frustratingly verbose, although that is part of it.
and Browsers are Finally Catching Up (in 2009):
But, the browsers are finally changing. The new crop come with technologies that show that the browser vendors are thinking about building a platform for desktop quality applications. The Chrome comic book was full of this.
Remember the Chrome Comic Book?
Dion, thanks for sharing your knowledge, please resurrect your blog!  (Dion, I know this is an old photo–feel free to send me a new one and I'll update this post.)