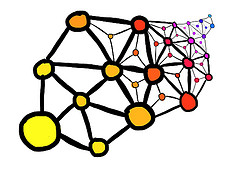 As I kick start my consulting business, I'm talking to many people–everyone in my network, anyone that I am referred to, and random people from Hacker News.  Employment is far less fungible than other purchases (even housing), so it behooves anyone selling labor to cast a wide net.
These introductions and conversations have not just given me the chance to talk about my skills and knowledge, but also to learn about other needs of the company.  Even if they don't have need for a senior developer who can talk business and learn new languages, they may have a need for someone else in my network.
I've been about to do a few such intros since early August.  It actually is quite fun to do this, and it is good for karma.  It's also a great way to stand out from the pack–if I an helpful to the organization before I take a job/contract with it, imagine how helpful I will be when I am engaged day to day.
During initial contact with the interesting organization, I talk about my skills and how that might fill the organization's needs–after all, they are interested in meeting and learning about me.  But I also note any other needs, either via postings on their websites, needs they imply or mention in the conversation, or by simply asking them: "do you have any other needs at this time?  I like to help and would be happy to ping my network".  I take notes.
Once I know some needs, I consider who in my network might help fulfill them.  Then I reach out to the members of my network and see if they can help. Typically, I send an email with the details of the need, and ask if they know anyone who might be a fit for the company.  Network members don't have to be looking to make a move.  They will probably know of folks who can be a good fit.  For example, a marketing will typically know far more marketers than I will.  Therefore, if an organization I am interested in helping needs a marketing assistant, reaching out to marketers in my network and asking if they know anyone looking will be helpful. This interaction is useful to my network contacts–it lets them reach out to their network, opens a conversation with me, informs them of labor market conditions with minimal work on their part, and could end up in a new job if the fit is right.
This technique also lets me have a soft touch point with the prospect in a week or so.  I say something like "I reached out to my network about the position X you posted, and haven't heard back from anyone, just wanted to let you know."
If I don't have a specific person who could help fill this role (either themselves or via their contacts), there are other ways to add value.  I've passed on recruiting tips (or interested tech articles), helpful employment sites, or general labor market advice such as "based on what I've seen, you might to have a hard time finding someone expert in tech X for pay Y", or "in my experience, rates for tech X are $Y/hour".  All of these add value to the interaction at very little cost to me.
Connecting people with openings is great for hiring managers on the other side of the hiring/contracting process.  If I am casting a wide net looking for contracts, I have recent data as well as a network and perspective worth sharing.  Since this is low cost to me and has benefits for me, the organization I am interacting with and members of my network, it is worth the extra effort to be mindful of needs and to send that intro email.